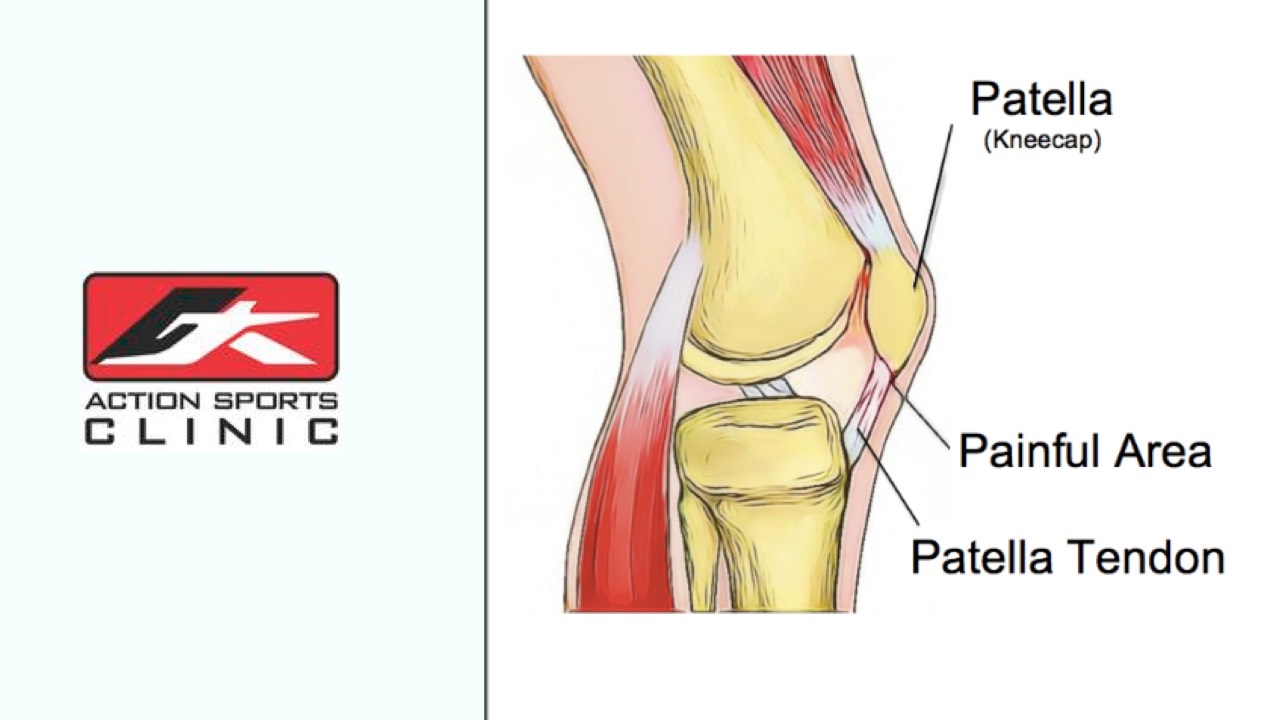 What is Patella Tendinopathy
Patella tendinopathy, also known as jumper's knee, is an overuse disorder characterised by pain at the base of the patella (kneecap) with activities such as squatting, sitting or going up and down stairs. The condition is known as jumpers' knee because it commonly affects athletes involved in sports that require jumping and repetitive loading of the patella tendon, such as basketball, volleyball, football and tennis.
Landing and jumping activities put a great amount of stress on the patella tendon. This tendon is responsible for transmitting the full force of the quadriceps muscles to the lower leg and during activities such as jumping and landing, this force can actually be many times more than your body weight.
What are the symptoms of Patella Tendinopathy?
The hallmark sign of patellar tendinopathy is sharp, localised pain in the patellar tendon just below the base of the patella. The pain is usually aggravated by activities that increase load through the quadriceps muscles such as squatting and jumping. Pain associated with patellar tendinopathy usually occurs gradually, often when a person has been very active for a long period of time or if they have recently increased their training schedule. The pain will often start as a small niggle, gradually becoming more noticeable and there may also be a feeling of stiffness with movements of the knee or first thing in the morning.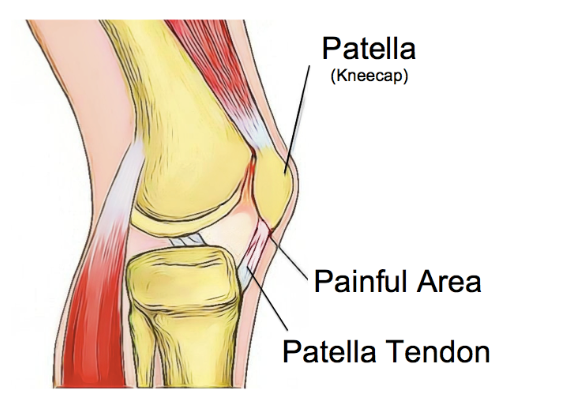 How does it happen?
Patellar tendinopathy is not a traumatic condition rather, it usually develops gradually over time due to prolonged overloading of the tendon. Like other tissues in the body, tendons are dynamic and can adapt to be able to withstand more force with training. However, if a tendon is unable to adapt to increased load quickly enough, it can develop micro tears leading to pain and dysfunction, known as tendinopathy. The risk of developing this condition can be increased by external factors, such as the type of sports chosen, training volume and the hardness of the training surface.
Intrinsic factors such as bone structure, muscle length, diet, age, muscle strength and overall health can also affect the ability of a tendon to  adapt to forces. Anything that impairs the tendon's ability to absorb force can lead to the development of tendinopathy. In general, men are affected by this condition more often than women.
How can physiotherapy help with Patella Tendinopathy?
As with all conditions, the first step to effective treatment is an accurate diagnosis. Your physiotherapist will be able to correctly identify this condition and any factors that have led to its development. Treatment for any tendinopathy will involve a degree of rest and reevaluation of your training schedule. Treatment of the tendon itself has been shown to be most effective with a targeted exercise program involving isometric and eccentric muscle contractions. These types of movements have been shown to help stimulate healthy tendon tissue to increase strength and support the damaged tissue, ultimately reducing pain. Tendinopathies can be notoriously difficult to resolve without patience and commitment to a rehabilitation program guided by a physiotherapist.
Disclaimer
None of the information in this article is a replacement for proper medical advice. Always see a medical professional for advice on your individual injury.
More From The Blog
The latest news, commentary and recipes from the team at Action Sports Clinic.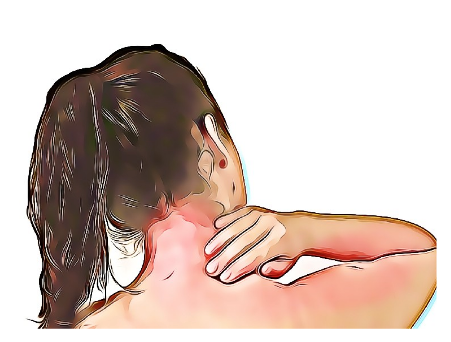 Referred pain is the term used when pain is felt at a different location to the source that is sending the pain signal. There are many kinds of referred pain, and some are easier to explain than others.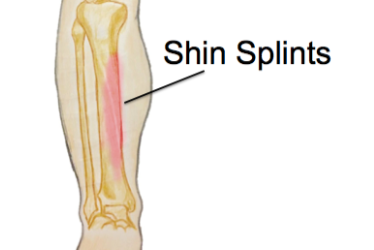 As running is a repetitive impact activity, most running injuries develop slowly and can be challenging to treat. Here are three of the most common conditions faced by runners.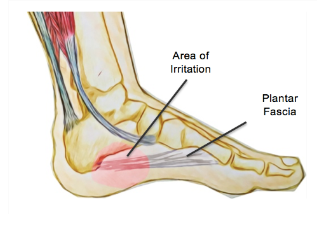 Plantar fasciitis is a common condition of the foot and heel affecting both athletes and members of the general public | Action Sports Clinic
Billy Wu ⭐⭐⭐⭐⭐
Awesome physiotherapists. Have my long-term health in mind when offering treatment plans. Very patient in explaining my issues. Great support staff, responsive to schedule changes and inquiries.
Jen Scheerschmidt ⭐⭐⭐⭐⭐
Initial Assessment went well. Office was busy but staff were attentive and on the ball. Dr. Rennick was gentle and adjusted my back well. I will be back for another appointment.
Morgan Tarves ⭐⭐⭐⭐⭐
I attend Action Sports Clinic to see my physiotherapist – Darra. Darra is very knowledgeable, attentive, and truly knows his sports medicine. I would highly recommend Darra to anyone who has a sports injury or is in need of physiotherapy. The front desk staff are very friendly and helpful, and are able to answer all of my questions.
David Langille ⭐⭐⭐⭐⭐
I've been seeing Shawn and the Action team since 2012 for my sports therapy needs and I'm better for it! Treatment and pro-tips (including video feedback on movement coaching) from someone who is client focused and active makes all the difference.
Cameron Belisle-O'Donnell ⭐⭐⭐⭐⭐
I've had an excellent experience having some physio work done on my shoulder. Shawn and his team are experts at what they do. They're friendly, punctual, and down to earth. I would highly recommend them!
David MacIntyre ⭐⭐⭐⭐⭐
Excellent place for physio. Jeannine fixed up my back. Help with improve my form on exercises. Highly recommend.
Frequently Asked Questions
What services do you offer?
We specialize in the practice of Sports Medicine and provide services related to Sports Therapy, Chiropractic Care, Physical Therapy, Massage as well as off the shelf and custom Prosthetics & Orthotics.
Do I need an appointment?
Yes! We take pride in personal service and being very accomodating. Please click any of our Appointment Buttons and submit your information, we will be in touch to confirm your date and time.
Where is your office located?
We are located in downtown Calgary at 639 – 5th Ave SW – Suite 130. Easy street access right across 5th Avenue from Tim Hortons. Limited customer parking available at rear of building.
What are the office hours?
We are open Monday – Friday from 7:00 am until 5:00 pm.
Do I need a referral from my physician?
No, a referral is not required to schedule an appointment.
Do you provide custom brace solutions?
Yes, Dr. Rennick is qualified by the world's top orthoepedic brands to develop custom bracing solutions for many conditions.
What Brands does Action Sports Clinic Carry?
We carry brands from the worlds top manufacturers including Donjoy, Össur, CTi, Bauerfeind, Thuasne and more.
Get in Touch
Open Hours
Monday
7:00 am - 5:00 pm
Tuesday
7:00 am - 5:00 pm
Wednesday
7:00 am - 5:00 pm
Thursday
7:00 am - 5:00 pm
Friday
7:00 am - 5:00 pm