DonJoy Knee Braces
You Deserve To Live Pain Free Without Limitations.
Get in Touch
639 – 5th Ave SW – Suite 130
Calgary, Alberta T2P 0M9
Open Hours
Mon – Fri — 7:00am – 5:00pm
Saturday — Closed
Sunday — Closed
DonJoy Knee Braces
Don Joy Knee Braces remain a top choice of Professional Athletes and leading Physicians around the world.
Bracing For Osteoarthritis
A non-invasive, non-narcotic treatment for mild to moderate OA. Bracing can be used in tandem with other treatment options to manage OA symptoms by increasing stability of the knee and reducing pain and swelling.
Bracing For ACL Injury
TREATMENT & PREVENTION
Learn the facts about bracing for ACL treatment and prevention. Remain active while healing, and protect the knee from future injury.
Defiance and Defiance III
Extreme sports. Water sports. Contact and non-contact sports The Defiance III is DonJoy's flagship custom knee ligament brace, offering a perfect, custom-made fit for every athlete.
For weekend warriors to elite athletes including extreme surfer Garrett McNamara and Motocross racer Brett Metcalfe, Defiance III is the strongest of DonJoy's functional knee braces.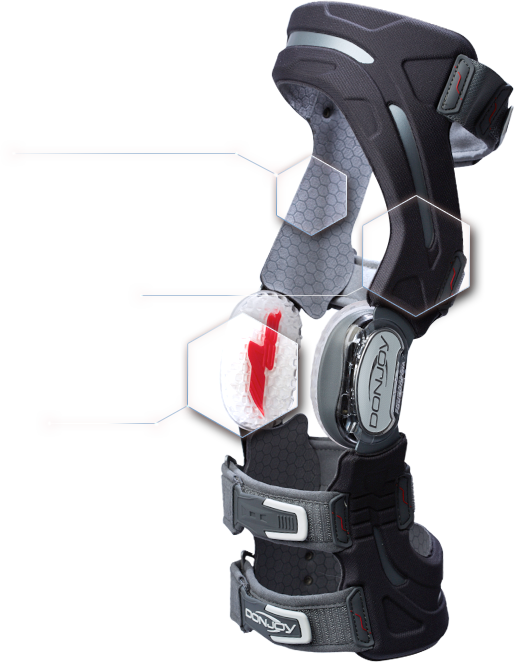 The custom carbon fiber composite is lightweight; the low-profile design fits comfortably under clothing and sports uniforms and is available in more than 40 frame colors and graphics.
Defiance III incorporates swivel strap tabs plus a medial swooping thigh; a diagonal bend on the inside of the thigh section provides clearance for the other leg or for an object such as a gas tank, horse or another brace.
Defiance technology is on the field, on the court, on the slopes and in the water protecting knees and providing confidence to those who wear it.
First introduced in 1992, DonJoy has produced more than a million braces; in college football alone, 22 of the Associated Press Top 25 teams use the Defiance knee brace. 
Action Sports Clinic Offers Custom Fit Knee Braces Designed Specifically to Manage and Reduce Your Knee Pain. We source the highest quality Orthopaedic Braces for joint related conditions from Worlds Best Manufactures.
The Highest Quality Orthorpaedic Braces for joint related conditions from the Worlds Best Manufacturer's.
"I was tired of living with a sore knee, it had been slowing me down for quite a while. New Knee Brace from Action Sports Clinic changed everything! Carbon Fiber is super cool too. Highly recommend this team."
"Went in to get fitted for an ankle brace - Dr. Shawn was awesome and answered all of my questions with caring and understanding!"
Mary Lynne Martens – ⭐⭐⭐⭐⭐
"Knowledgeable, friendly and intuitive staff. Allison is the best physio I've worked with and Dr Sean is a natural healer."
Frequently Asked Questions
What Brands does Action Sports Clinic Carry?
We carry brands from the worlds top manufacturers including Donjoy, Össur, CTi, Bauerfeind, Thuasne and more.
Do I need an appointment?
Yes! We take pride in personal service and being very accomodating. Please click any of our Appointment Buttons and submit your information, we will be in touch to confirm your date and time.
What are the office hours?
We are open Monday – Friday from 7:00 am until 5:00 pm.
What services do you offer?
We specialize in the practice of Sports Medicine and provide services related to Sports Therapy, Chiropractic Care, Physical Therapy, Massage, as well as off the shelf and custom Bracing & Orthotics. To learn more please visit our "Services" section of the website.
Do I need a referral from my physician?
No, a referral is not required to schedule an appointment.
Do you provide custom brace solutions?
Yes, Dr. Rennick is qualified by the world's top orthoepedic brands to develop custom bracing solutions for many conditions.
Get in Touch
Open Hours
Mon - Fri — 7:00am - 5:00pm
Saturday — Closed
Sunday — Closed