Bicep Tendinopathy – A Sports Practitioner's Perspective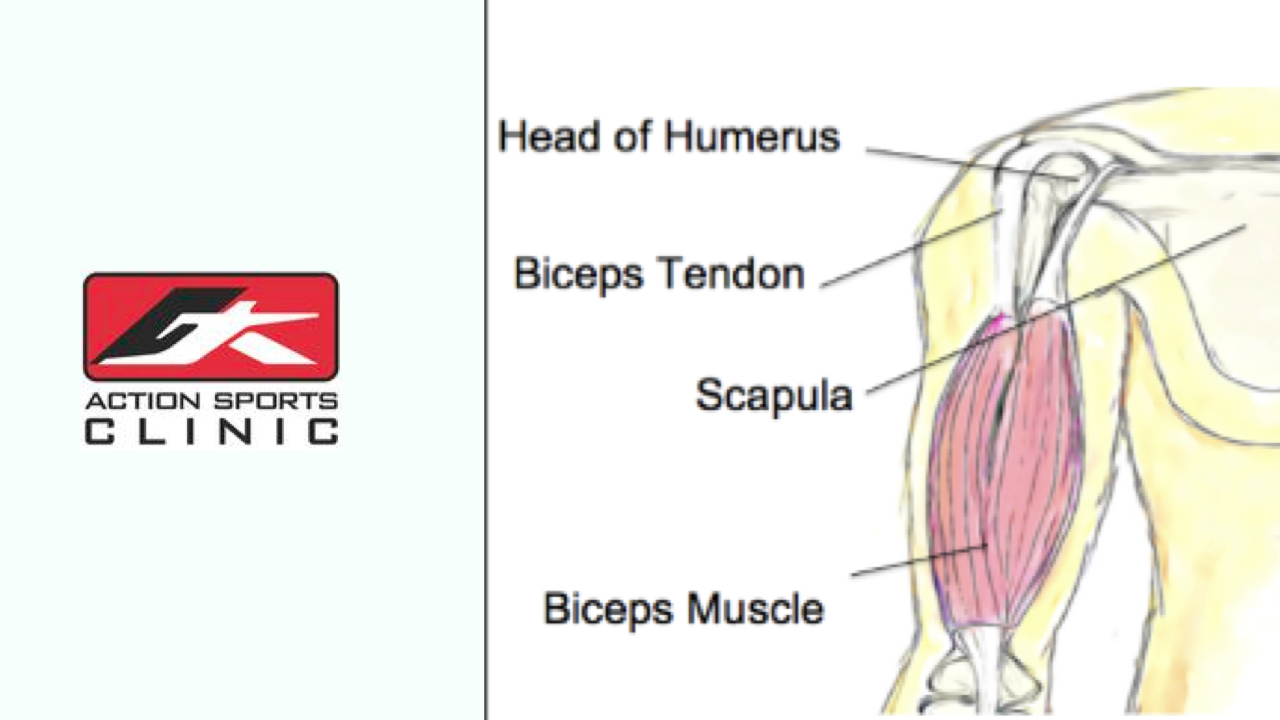 What is Bicep Tendinopathy?
The biceps brachii muscle, commonly known as the biceps, sits between the shoulder and elbow. It has two parts: the long head and short heads. These come together to form the main muscle bulk, which is the "Popeye" part of your upper arm. The biceps
brachii muscle runs from the top and front of the shoulder all the way down to the upper forearm. The biceps tendon is the part that attaches the muscle to the bone, both at the shoulder and the elbow.
The biceps muscle functions to bend the elbow and turn the hand to face palm-up. The term "tendinopathy" is used to describe injury and pain of a tendon. This is most commonly due to overuse. Biceps tendinitis tends to affect the long head of the biceps more commonly. Both the tendon itself and the tendon sheath can be the source of pain.
How does Bicep Tendinopathy happen?
This condition occurs most commonly due to repeated use of the biceps over a long period of time. People with this condition often present in the later stages of tendon damage, when they begin to experience pain. This means that bicep tendinopathy is a slow-developing condition, without any symptoms until it reaches the point that the tissues become injured and painful. This is the body's way of self-defence; it is telling you that it doesn't like the activity you are asking it to do.
While specific tasks such as throwing sports, tennis or golf can increase the risk of developing a bicep tendinopathy, often it is simply caused by usual daily activities throughout the course of an adult's life. With aging comes a decrease in the collagen and elastin components of tendons. This contributes to a reduced ability to sustain a high load, which can cause degeneration or inflammation over a longer period of time.
What are the symptoms of Bicep Tendinopathy?
Biceps tendinitis is painful; often aching at night and increasing in intensity when performing overhead tasks such as reaching and lifting. The pain is usually at the front of the shoulder, and can radiate downwards along the front of the arm. People with this condition often have developed adaptations to their usual movement patterns in order to avoid aggravating this pain. This in itself can lead to other issues such as strained or overworked muscles. An example of this is hitching up the shoulder to the ear when going to use the affected side, as this will help to offload the affected muscle, allowing the biceps to be under less stress. Unfortunately, eventually this will increase the stress on the muscles of the upper neck and shoulder, leading to secondary aches and pains.
How can a Sports Practitioner help?
Your Sports Practitioner will assess and diagnose this condition, which will in turn allow for a comprehensive management plan to be put in place. A combination of strengthening, stretching and muscle release is often beneficial to assist in management of this condition. If you have developed secondary complications with changes to your normal movement patterns, your  physiotherapist can assist you in addressing these and training your body to avoid causing further damage. If further imaging or onward referral is needed, your Sports Practitioner can help in guiding you through this process.
Disclaimer
None of the information in this article is a replacement for proper medical advice. Always see a medical professional for advice on your individual injury.
More From The Blog
The latest news, commentary and recipes from the team at Action Sports Clinic.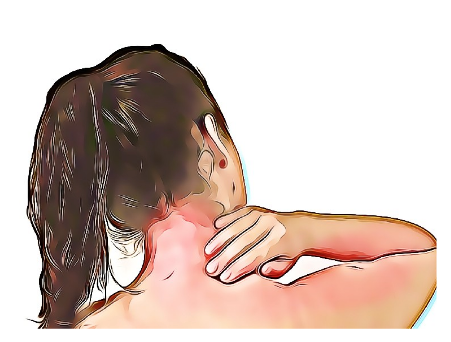 Referred pain is the term used when pain is felt at a different location to the source that is sending the pain signal. There are many kinds of referred pain, and some are easier to explain than others.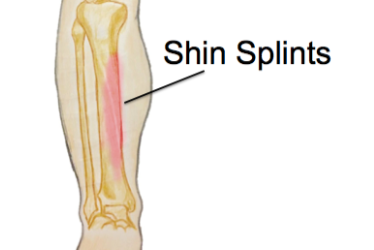 As running is a repetitive impact activity, most running injuries develop slowly and can be challenging to treat. Here are three of the most common conditions faced by runners.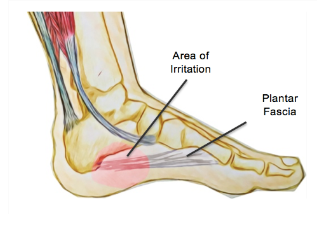 Plantar fasciitis is a common condition of the foot and heel affecting both athletes and members of the general public | Action Sports Clinic
Billy Wu ⭐⭐⭐⭐⭐
Awesome physiotherapists. Have my long-term health in mind when offering treatment plans. Very patient in explaining my issues. Great support staff, responsive to schedule changes and inquiries.
Jen Scheerschmidt ⭐⭐⭐⭐⭐
Initial Assessment went well. Office was busy but staff were attentive and on the ball. Dr. Rennick was gentle and adjusted my back well. I will be back for another appointment.
Morgan Tarves ⭐⭐⭐⭐⭐
I attend Action Sports Clinic to see my physiotherapist – Darra. Darra is very knowledgeable, attentive, and truly knows his sports medicine. I would highly recommend Darra to anyone who has a sports injury or is in need of physiotherapy. The front desk staff are very friendly and helpful, and are able to answer all of my questions.
David Langille ⭐⭐⭐⭐⭐
I've been seeing Shawn and the Action team since 2012 for my sports therapy needs and I'm better for it! Treatment and pro-tips (including video feedback on movement coaching) from someone who is client focused and active makes all the difference.
Cameron Belisle-O'Donnell ⭐⭐⭐⭐⭐
I've had an excellent experience having some physio work done on my shoulder. Shawn and his team are experts at what they do. They're friendly, punctual, and down to earth. I would highly recommend them!
Ashley Gibbs ⭐⭐⭐⭐⭐
Shawn is the best physio I have ever been to, and I continue to go back to him to get me over my many injuries so that I can get back playing. I like Shawn because he knows I'm not going to stop playing my sports, and he takes a practical approach to getting me back playing as quickly as possible. Shawn has a broad background to bring to the table in terms of treatment options, and his experience at recognizing injuries, human physiology, body mechanics, and the symptoms, treatment, future prevention and rehabilitation is second to none. For me personally, I like that Shawn understands I need an "aggressive" approach to the treatment required to overcome my injuries – this is refreshing because other physios I have attended previously I always felt were treating my injuries and pain threshold with kid gloves which resulted in lengthy absences from playing my sports. I like that Shawn is hyper focused on getting me back playing as soon as possible, and even recognizes I may play when I'm not supposed to. He just rolls with it! Love it.
Frequently Asked Questions
What services do you offer?
We specialize in the practice of Sports Medicine and provide services related to Sports Therapy, Chiropractic Care, Physical Therapy, Massage as well as off the shelf and custom Prosthetics & Orthotics.
Do I need an appointment?
Yes! We take pride in personal service and being very accomodating. Please click any of our Appointment Buttons and submit your information, we will be in touch to confirm your date and time.
Where is your office located?
We are located in downtown Calgary at 639 – 5th Ave SW – Suite 130. Easy street access right across 5th Avenue from Tim Hortons. Limited customer parking available at rear of building.
What are the office hours?
We are open Monday – Friday from 7:00 am until 5:00 pm.
Do I need a referral from my physician?
No, a referral is not required to schedule an appointment.
Do you provide custom brace solutions?
Yes, Dr. Rennick is qualified by the world's top orthoepedic brands to develop custom bracing solutions for many conditions.
What Brands does Action Sports Clinic Carry?
We carry brands from the worlds top manufacturers including Donjoy, Össur, CTi, Bauerfeind, Thuasne and more.
Get in Touch
Open Hours
Monday
          9
:00 am - 5:00 pm
Tuesday
         9
:00 am - 5:00 pm
Wednesday
   9
:00 am - 5:00 pm
Thursday
       9
:00 am - 5:00 pm
Friday
             9
:00 am - 5:00 pm